James Shaw Jr. has  raised over $180,000 for the funerals of the shooting victims.
Shaw who has been hailed as a hero, has been pushing back on his hero-status. He has stated that his actions were purely selfish, with a side result of protecting others. Shaw has been credited with preventing additional deaths during a mass shooting at a Waffle House in Nashville, Tn.
Shaw was recently honored by the Nashville Predators, meeting with coach Laviolette — being presented with personalized Predator's jersey.
In a seeming response to Kayne West calling Emma Gonzalez his hero — Gonzales tweets that her hero was James Shaw Jr.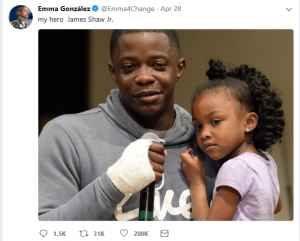 President Trump has remained silent on the Waffle House mass shooting, and on the heroics of James Shaw Jr.
The alleged shooter, 29 year old Travis Reinking, killed four people and injured numerous others before Shaw tackled and disarmed the gunman. The four victims died from their injuries.